Who we are, aims and strategy
Since 2005 Albania Holidays DMC is widely recognized as one of the market leaders offering quality travel services in Albania and neighbouring countries, through exclusively providing incoming services to our clients and partners.
Created out of the passion for Albania and travel, our aim is to provide exiting and quality travel experiences for the discerning traveller, through passion, creativity, efficiency and by working with the best suppliers. Furthermore we aim to provide unique solutions and authentic experiences, which can be sustained in the long run.
Our philosophy has been to implement western work standards, ethics and professionalism in the dynamic and inexperienced Albanian Tourism sector. Albania Holidays' strategy is to get things right the first time, through careful planning and meticulous execution through a step by step quality control process.

What differs us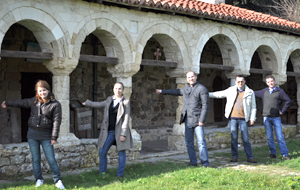 Through our passion, vision and professionalism we have been able to make an impact in the Albanian sector, climbing to the top in a relatively short period of time. The expression "tailor made" is in the centre of our organization and we truly work with each client to make sure that the services offered are exactly what the he/she is looking for.
Our young, professional management team, educated and with work experience abroad has steered the company towards success supported by a team of employees carefully selected and trained to be customer oriented, flexible and provide a fast response.

Sustainability efforts
We are very sensitive to the fact that tourism although it is generally beneficial to our community, it can also have adverse effects if stakeholders do not act responsibly and try to reduce its negative impact. It is for this reason that we carefully chose suppliers who are well connected to their local communities. A selection of family run hotels and restaurants with local food and design, with efforts to reduce impact on the environment are part of our supplier portfolio. Visits, stays and meals with locals and family run businesses are growing in our product selection increasing the positive impact by spreading the income.
Successful partnerships and recognized partners
Through hard work and professionalism Albania Holidays has built a brand name which offers assurance of quality to its clients, partners and suppliers alike. The name is recognized and is mentioned in several articles about Albania published in well-known international media. Many of our partners are leaders in their market niches and their brand names are associated with top quality worldwide travel.